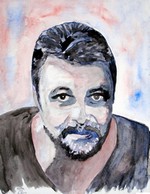 Sylvestre Aznar is defined as a free artist!
Self-taught painter born in 1951 Hautes-Pyrenees (65).
It merely indulge in his creations to whet visitors regardless of what people will say it.
Freedom of expression, the study on all media, blending techniques, characterized his work.
Landscapes of Provence, Spain and the Canal du Midi, portraits of celebrities and animals, nudes, are his favorite themes.